The United States Department of the Treasury implemented a new law in March 1, 2013, that required all recipients of federal government benefits, like Social Security, Supplemental Security Income (SSI) benefits, or Veterans Affairs benefits to must receive their benefits electronically. If you are still getting checks in the mail for your federal benefits, you are out of compliance with the law and have 3 options to comply. We have outlined the 3 options in detail in this article. If you are not aware of this new law, then you should watch the video below to get up to date. The video is from a local TV station in North Dakota but applies to everyone in the US receiving Social Security.
One of the ways to comply with this law is via Social Security Direct Deposit – and we have provided the Direct Deposit From and Instructions below, including where to send the form when you complete it.
Social Security Direct Deposit Form
To sign up for Direct Deposit, click here to download the latest version of the form. Note that the form is available PDF format for downloading and completion. To read and print the form, you must have Adobe Acrobat Reader software installed on your computer.
Social Security Direct Deposit Form Instructions
1. Complete Sections 1 and 2 of the form (See image below with arrows showing sections you have to complete). Then take the form, or mail it to your financial institution (bank or credit union).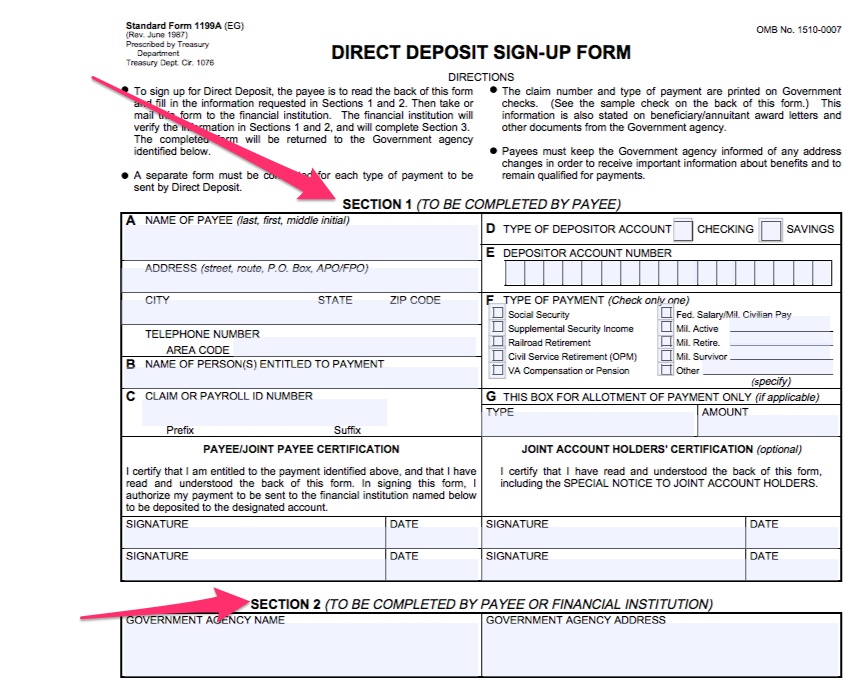 2. Your financial institution (bank or credit union) will verify the information you completed in section 1 and 2. They will then complete Section 3 of the form (as shown below).

3.  Your financial institution (bank or credit union) will then submit the form to the Social Security Administration for processing.
If you are having trouble completing this form, there are other ways available to you to sign up for direct deposits. We have detailed these options for you in the our post, which can be found by clicking on this link.